COUNTRY : Bulgaria
ACET
---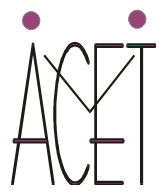 PRESENTATION : The Assistance Centre for Torture Survivors – ACET is a non-governmental, non-profit organisation established in 1995.  ACET provides rehabilitation services to torture victims and to traumatised individuals among asylum seekers and refugees. Our rehabilitation services include psychological, psychiatric, social consultations and psychotherapy.
Our clients have escaped from their countries of origin through war, persecution or threats to their lives. In order to support them in the most efficient way, the team of ACET provides consultations not only at our premises, but at the premises of the State Agency for Refugees and the Special Home for Temporary Accommodation of Foreigners.
Since 2010, ACET is a partner organisation involved in the implementation of the PROTECT and the PROTECT-ABLE projects. In this framework, our main aim is to elaborate a system for early identification of vulnerable asylum seekers that will cover all new arrivals in Bulgaria.
CONTACTS :
Kristina Gologanova
ADDRESS :
Assistance Centre for Torture Survivors
3 Dechko Yordanov Str.
Floor 2, office 4
1618 Sofia
Bulgaria
MAILS :
office@acet-bg.org