COUNTRY : Networks
IRCT
---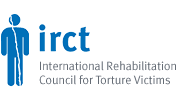 PRESENTATION : The IRCT is a health-based umbrella organisation that supports the rehabilitation of torture victims and the prevention of torture worldwide. Its members comprise more than 140 independent organisations in over 70 countries. The IRCT's work is governed by these member organisations and is the largest membership-based civil society organisation to work in the field of torture rehabilitation and prevention.
The mission of the IRCT is to ensure that torture victims are able to access appropriate health-based torture rehabilitation services, to ensure that torture victims are able to have full access to justice and to contribute towards the prevention of torture worldwide. The IRCT's independent member organisations have a unique experience and knowledge of taking generic rehabilitation approaches and tailoring them to local socio-economic and cultural contexts to fulfill this mission. The IRCT seeks to improve the capacities and performance of its members and to provide holistic rehabilitation through the facilitation of sharing experiences, knowledge, and skills across regions.
The IRCT's main office is located in Copenhagen, Denmark. It also has two liaison offices, in Brussels, Belgium and Geneva, Switzerland.
Website: http://www.irct.org/
CONTACTS :
Helene de Rengervé
Head of Donor Relations & Brussels Liaison office
ADDRESS :
205 rue Belliard
1040 Brussels

Tel: +32 2 230 15 04 - Mob: +32 473 31 52 76

MAILS :
hdr@irct.eu
Odysseus Network
---

PRESENTATION : The Academic Network for Legal Studies on Immigration and Asylum in Europe was set up by the Professor Philippe De Bruycker in 1999 with the financial support of the European Commission through the Odysseus programme. It brings together lawyers from each Member States of the European Union who join their efforts to, on the one hand, develop the comprehension of the European Law of aliens in the perspective of the common policy on immigration and asylum, and, on the other hand, to spread their knowledge as widely as possible with the help of new technologies.
To this end, the Network carries out studies of comparative and European law and provides expertise; it also organises every year in Brussels during the month of July a summer school on the European policy on migration.
| | |
| --- | --- |
| CONTACTS : | Laurence De Bauche |
| MAILS : | odysseus@ulb.ac.be |